By Brian Schwartz and Amanda Simcoe
rib tinga chalupa
Barrios Fine Mexican Dishes, OKC
The chalupa is surely one of the most popular menu items at this south-of-the-border restaurant from A Good Egg Dining Group. Enjoy queso cotija, pickled jalapeños and onions, refried black beans, kale slaw and guacamole on a crispy flour tortilla. Pro tip: this dish pairs perfectly with a frozen avocado margarita. – AS
Butter chicken
Sheesh Mahal, OKC
Since 2014, this family-run restaurant has offered delicious menu options for both devoted fans and newcomers to halal Pakistani and Indian cuisine. The butter chicken served in a rich and creamy curry sauce will make you want to return to taste your way through the entire menu. – AS
Original cheeseburger
Nic's Grill, OKC
Yes, the cheeseburger at the original 15-seat Nic's Grill is every bit as good as the hype. With lettuce, tomato, pickle, mustard, mayo, American cheese and their signature grilled onions, the only thing that could make this burger better is a side of curly fries. – AS
Ribeye dinner
Freddie's Bar-B-Que and Steakhouse, Sapulpa
Order a steak, any steak. They're all delicious. And long before that steak hits the grill, a cavalcade of yummy dishes arrives one by one at your table. There's a hummus and relish tray, then a sprightly tabouli. A Lebanese cabbage roll is next, and then an enormous basket of barbecued ribs and bologna. There's more too, all scrumptious, and finally, when you think you can't eat another bite, a big sizzling steak arrives to perk your appetite right back up. – BS
Coconut pandan waffle
Super Cao Nguyen, OKC
One of the best kept secrets for weekend eats is found, along with many other delicious options, in the Super Cao Nguyen market's front entryway. Coconut-pandan waffles made fresh behind the counter are take-out only, so they are perfect for bringing home and serving with butter and coconut syrup (not included, but highly encouraged). – AS
Friends with Benedict
Cafe Kacao, OKC
Chef-owner Veronica Zelada, a native of Guatemala, serves up some of the best breakfast and lunch options in town at her family-run eatery. The Friends with Benedict features French baguette, black beans, asada steak, tomato, poached eggs, house-made hollandaise, house-made guajillo sauce and fresh fruit. Try it and thank me later. – AS
Gulai ikan kuning
Rendang Indonesian, Tulsa
Gulai ikan kuning is a traditional dish from the Minangkabau region of West Sumatra. You won't find it in all that many cities outside that remote region, and one of them is Tulsa. A whole pomfret (a butterfish native to the middle east and southeast Asia) is fried and served in a mild citric curry made with turmeric. It's spectacular and delicious. This is just one of the many masterpieces to come out of chef Indri Bahar's magical kitchen. – BS
Gnocchi with wild mushrooms
Osteria, OKC
Osteria, the Nichols Hills collaboration between chefs Jonathon Stranger and Fabio Viviani, serves various handmade pasta, pizza and other Italian goodies using local ingredients. One of my favorite foods this time of year is mushrooms, and this dish adds pillowy gnocchi, black truffle cream sauce, truffle oil and crispy shallots. – AS
Al Fresco All Year
Even though it's getting chilly out, outdoor dining is still a great choice with some top-tier patios.
The R & J Lounge and Supper Club: This OKC favorite offers their homage to the classics of the 1950s, both indoors and on their screened and heated patio. Their extensive list of classic cocktails and daily drink specials offer something for everyone.
O Bar: Situated at the top of the Ambassador Hotel, this rooftop lounge offers overhead heaters to keep you comfortable as you enjoy stunning views of downtown OKC, along with cocktails and a wide variety of small and large plates.
Doc's Wine & Food: Darin Ross' longtime Brookside hotspot has a cozy covered front patio area complete with heaters to keep you warm whether you are enjoying a romantic dinner or Sunday brunch with friends.
R Bar: Another Tulsa favorite (right down the street from Doc's), R Bar offers extensive patio seating, heaters, and American grub to warm the belly. – AS
Take home:
Some of Tulsa's finest chefs, both new talent and veterans, offer food to take home and reheat one or two days a week. Teri Fermo does Filipino haute cuisine; Raqaun Bennett offers Caribbean; Hope Egan sells delectable dishes with totally local ingredients, and longtime caterers Josh Vitt and Josh Baker sell whatever they're in the mood to make. – BS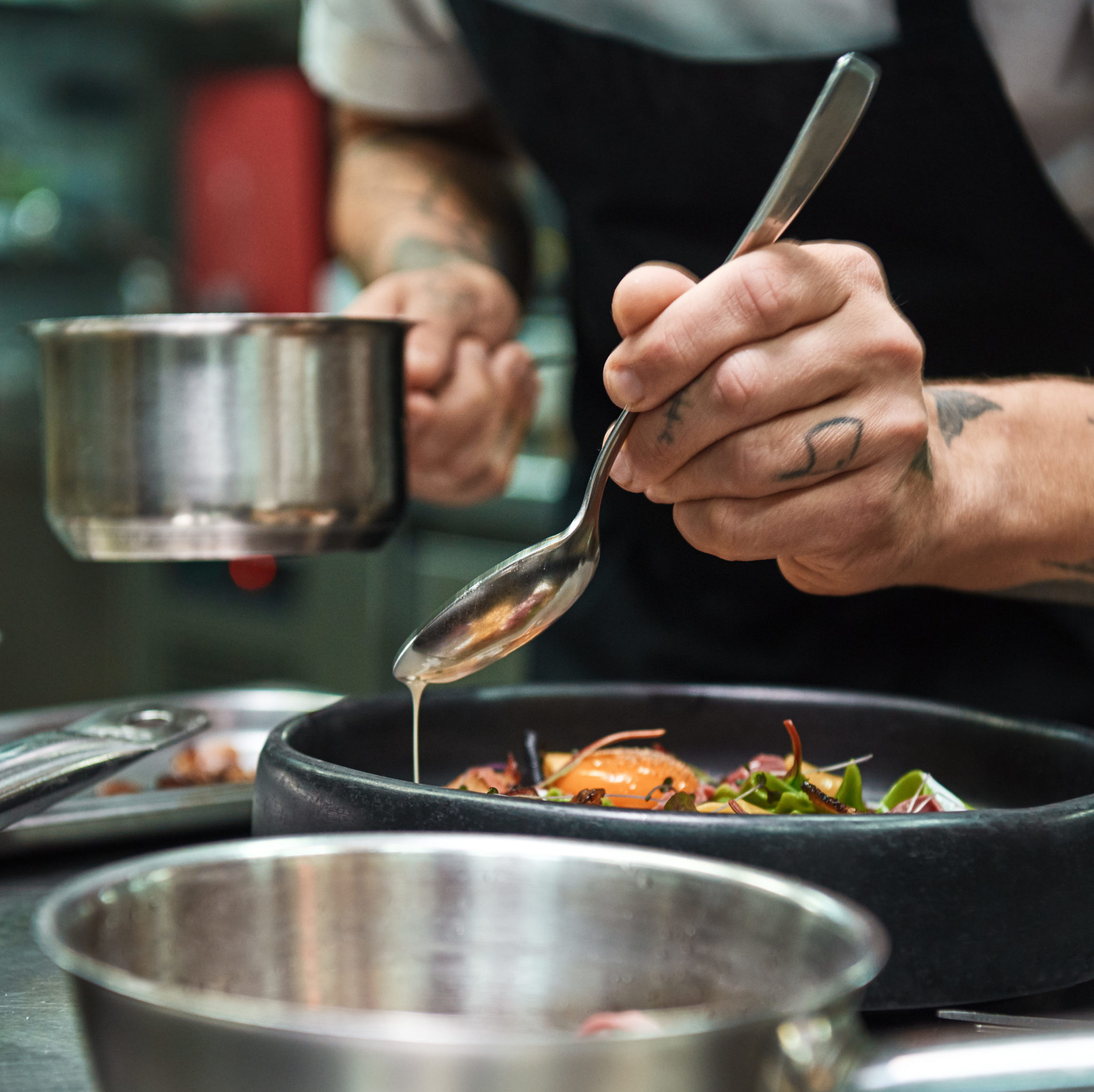 Off the Grid:
Famed restaurateur Jenny Vergera runs an underground supper club that features secret multi-course dinners cooked by the best chefs in Tulsa. Some are famous, some have yet to be discovered. You sign up and receive invitations. If the dinner interests you, you join a lottery and only the winners can attend. Yes it's secret, but hundreds have gone. We can't tell you any more – visit testkitchenok.com. – BS
Pan-seared sea bass
Nola's Creole & Cocktails, Tulsa
Nola's food and ambiance perfectly evokes the New Orleans of yesteryear. Their new executive chef, Eliel Perezt, raises the bar and brings diversity into the mix, as shown in this dish, with French (green pea coulis) and Egyptian (pistachio dukkah) ingredients used to enliven Perezt's favorite fish. The fish comes with roasted fingerling potatoes, rainbow carrots and pumpkin puree. "Sea bass has the perfect light flavor," he says. "It can be cooked in almost any way imaginable and the spices for it are endless." – BS
Lamb chops
Zam Zam Mediterranean, Warr Acres
It's a combination restaurant and hookah lounge with delicious options all across the menu. Try the grilled lamb chops, served with a veggie skewer and your choices of two sides, such as hummus, baba ganouj, grape leaves, tabouli, a variety of salads and much more. – AS