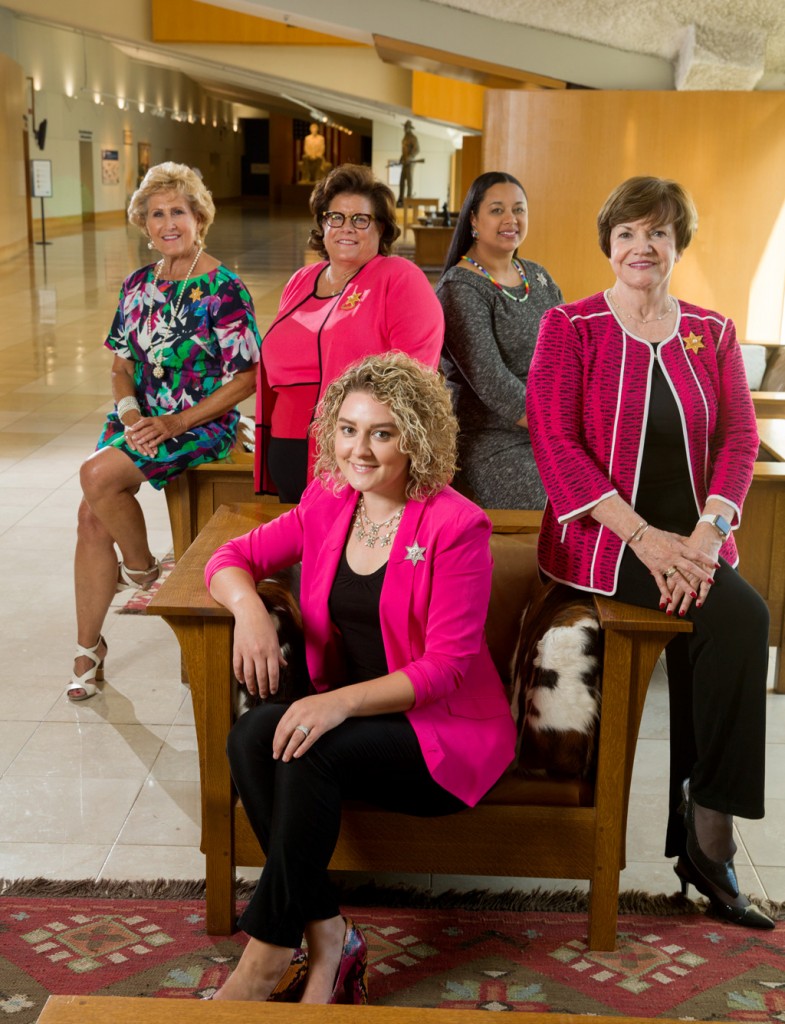 [dropcap]Sharp[/dropcap] shooter. Leader. Pioneer. Celebrated markswoman of the Old West Annie Oakley was all of these and more.
Many female innovators today channel Oakley's courage and spirit, inspiring the Annie Oakley Society at the National Cowboy & Western Heritage Museum in Oklahoma City to bring together some of the state's – and nation's – exceptional women with a mission to preserve our history.
"Following in the footsteps of one of America's most illustrious female trailblazers, contemporary women leaders under the leadership of myself and Lynn Friess established the Annie Oakley Society," says former Oklahoma First Lady Cathy Keating, the group's founder and national chair. "The Annie Oakley Society comprises women leaders and philanthropists who, like Annie Oakley, play significant roles in shaping our communities and creating new horizons. Through their efforts, they demonstrate an undying determination for excellence and support for the American character preserved and promoted through the museum."
According to Keating, the society's mission is two-fold: to ensure continued outstanding education regarding the West through programs at the museum, and to recognize women who "embody the spirit of Annie Oakley." Past recipients of the society's honors include retired Supreme Court Justice Sandra Day O'Connor, singers and Oklahoma natives Reba McEntire and Kristin Chenoweth, U.S. Navy Admiral Michelle Howard and Olympic gold medalist Nadia Comaneci. The philanthropic efforts of the society have raised approximately $3.5 million for educational initiatives at the museum through its annual luncheon.
"We are passionate about keeping the West alive in the hearts and souls of future generations," Keating says, "and the luncheon is the vehicle for the Annie Oakley Society to do that."
Speaking of the Old West legend for whom the society is named, Keating greatly admires this female luminary of the past.
"Annie Oakley was a female entrepreneur, pioneer, educator and sharp-shooter who lived by the phrase 'Aim high,'" Keating says. "We honor women who closely model the legacy Annie Oakley left behind. Like Annie Oakley, we value education, and, through that shared value, the Annie Oakley Society supports educational programming on the diverse history of the American West."
The Annie Oakley Society Luncheon
The Annie Oakley Society Luncheon, the annual fundraiser for the organization, will take place Oct. 13 at the National Cowboy & Western Heritage Museum. This year's luncheon will recognize Donna Shirley, president of Managing Creativity and past manager of the Mars Exploration Program at NASA's Jet Propulsion Laboratory, with the Annie Oakley Society Award. The Lifetime Achievement Award will honor Jo Rowan, chairwoman of Oklahoma City University's School of American Dance and Arts Management and founder of OCU's dance program. Tickets to the luncheon are $150 for non-members of the society. The public is encouraged to attend, but reservations are recommended by visiting the museum's website at www.nationalcowboymuseum.org/annieoakley/. For questions regarding membership or reservations, call the Annie Oakley Society's director at 405.478.2250, ext. 233.