INCLUDING BONUS ONLINE QUESTIONS AND ANSWERS 
GUBERNATORIAL ELECTION
AT A GLANCE

In-person early voting
8 a.m.-6 p.m. Nov. 1-2 and 9 a.m.-2 p.m. Nov. 3 at all 77 county election boards

Election day
Polls open 7 a.m. to 7 p.m. Nov. 6

Mandatory identification
Valid government-issued photo ID or current voter registration card

Provisional ballots
Available for those without ID

Precinct locator
services.okelections.us/voterSearch.aspx

Number of precincts statewide
1,951
1
With bipartisan experience, Edmondson
desires 'party-label irrelevance'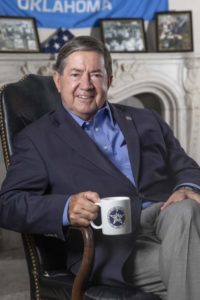 Drew Edmondson, Democratic nominee for governor of Oklahoma, is a longtime attorney general with widespread knowledge of state government.
A longtime attorney general with widespread knowledge of state government, Drew Edmondson intends to have no learning curve as Oklahoma's chief executive.
"As attorney general, I provided advice and counsel through all parts of the government," says Edmondson, elected four times to the post. "We got a bird's eye view of how each agency works.
"The attorney general is also a member of the equalization board. We figured out how much money to appropriate and had to project revenues from the different buckets. We saw what fluctuated over the year and what was stable. That was valuable to me as attorney general and will be as governor."
Edmondson touts working across party lines to craft legislation.
"We had authors from both sides for bills that were identified as coming from the AG's office," says Edmondson, who served eight years under Republican Gov. Frank Keating (1995-2003) and eight under Democratic Gov. Brad Henry (2003-2011). "We wanted both parties in on those operations.
"I have performed my duties blind to party labels. I hope we are moving to party-label irrelevance – not that we're a red state or blue state, but … purple and [doing] what's right for Oklahoma. We should look for the best ideas and solutions and not who's wearing what colored T-shirts."
Edmondson, a former Muskogee County district attorney and teacher, wants to increase funding for public education with pay raises for aides and paraprofessionals, who didn't get a bump in salary the way teachers did in April. He also wants more money to go into running school operations to reduce class sizes.
Edmondson would pay for the increases three ways: restoring the gross-production tax to 7 percent, which he says is the historical norm; scrapping the capital gains tax, which he calls a "failed experiment"; and adding another 50 cents to a pack of cigarettes.
"All told, that would bring in $300 million, which doesn't fix all the problems, but it will help give us a good start to fund education, health and mental health," he says.
Edmondson also wants to expand Medicaid under the Affordable Care Act.
"I fail to see the downside of that," he says. "We'd spend about $100 million [while] injecting $1 billion into the economy. This will generate more than enough tax revenue to cover the 10 percent match. The upshot is covering 153,000 uninsured Oklahomans. The other half is that money will go to hospitals, clinics and providers.
"Pauls Valley is doing a GoFundMe to keep its hospital open. That shouldn't happen."
Edmondson does not shy from his political roots and family. His father, Ed Edmondson, was a 10-term U.S. representative from Muskogee; his uncle, J. Howard Edmondson, was elected as Oklahoma's youngest governor in 1958 and finished the term of U.S. Sen. Robert S. Kerr, who died in 1963.
"I'm proud of my family name [but] it's my record that I accumulated under that name that's important," says Edmondson, 72. "My uncle died in 1971. My father died in 1990 and was last in office in 1972. To say that I'm running on my family's name is kind of true, but I've earned my reputation in the 2000s because there are fewer and fewer people who remember my father and uncle."
2
DREW EDMONDSON ONLINE EXTRA
Following is from a question-and-answer session with Drew Edmondson, the Democratic nominee for Oklahoma governor.
Oklahoma Magazine: How will your experience in government, as a 16-year attorney general and Muskogee County district attorney, help you as governor?
Drew Edmondson: My learning curve would be short. I would be ready on Day One to perform the functions as governor. I would know how to act with state agencies. I know which boards are constitutional and which are statutory. Things like that are helpful in figuring out how to craft a program and make state government work.
OM: How do you respond to those who say you are running on your family name since you are the nephew of former Gov. E. Howard Edmondson and son of 10-term U.S. Rep. Edmondson?
DE: I'm proud of my family name. I think people who didn't like my father and uncle are likely to be against me, just like ones who liked them are likely to be for me. Your family's enemies are certainly going to hold their grudges. I'm sure Mr. Stitt is proud of his father because he's talked about him. I'm proud of mine. We're both right.
OM: How would you describe your policies? Oklahoma has had populist/progressive governors in the past: your uncle, Alfalfa Bill Murray, David Boren. It has had centrist Democrats: George Nigh, Brad Henry and Robert S. Kerr. Where do you fit historically?
DE: That's a really good question that I haven't thought about. I would take J. Howard Edmondson's enthusiasm but not necessarily his judgment. I would take David Boren's judgment, and the commitment of Brad Henry and George Nigh to education. I would like to take Henry Bellmon's fearless foray into a governor's race the first time he ran because we hadn't elected a Republican governor until him. I like David Walters's ability to think outside the box and come up with legislative plans that no one thought of before, like the Quality Jobs Act. I would aspire to having a mix of these men's attributes.
In my time in public service, I have tried to think outside the box in terms of the tobacco trust and the education trust [settlements struck as attorney general]. I believe in my commitment to integrity like that Henry Bellmon showed in his two terms.
OM: Like former Gov. George Nigh, you are a former public school teacher. How do you respond to those who say Oklahoma teachers are paid what they deserve or even too much?
DE: I'd say 49 other states disagree with that opinion because they pay more for their teachers. We took a big step in April [with pay raises averaging $6,000], but teachers were not walking at the Capitol just for salaries. Members of the legislature haven't reduced class sizes, haven't reduced the number of emergency certifications and haven't enhanced the status teachers in this state and the importance of that profession. Teachers aren't given enough autonomy in their classrooms. Their textbooks are out of date. Their computers are out of date. The whole classroom is fraught with problems that the legislature didn't take steps to address or relieve in April.
OM: Why do you endorse Medicaid expansion in Oklahoma under the Affordable Care Act?
DE: In the long run, the match from the state is 10 percent … so we'd spend about $100 million to inject $1 billion into the Oklahoma economy. That money will go to hospitals, clinics and providers. Individual Oklahomans won't see that money directly because it will go to providers being reimbursed. What Oklahomans get to see is a doctor and medical care they're not getting now. The money goes to keeping hospitals and clinics open because they'll be reimbursed. I can't fathom why anybody wouldn't take that expansion.
The lion's share of people who are uninsured in Oklahoma fit the category of working full-time. If they weren't working, then their children would be eligible for Medicaid. These are people working full time who make too much money to get Medicaid but they can't afford private insurance. Medicaid expansion will solve that.
We're doing poorly on health outcomes in Oklahoma. We've had our life expectancy lowered over the past eight years. We have three communities that hit the top 10 list of lowest life expectancy in the country – Stilwell, Eufaula and Checotah, with life expectancies in the 50s. Of all the things that play into those statistics about life expectancy, the biggest is the inability to access the health-care arena. To my way of thinking, this is what prospective companies want on whether to bring their corporate families to Oklahoma. Those companies want to see the education of our children, the health of our residents and the safety of our streets. 
At best, improving the health of Oklahomans is a draw to businesses looking to relocate. At worst, it negates a bad perception.
OM: Why do you see lack of transparency as a major problem in Oklahoma?
DE: The current governor claimed executive privilege to avoid turning over a great number of emails that had been requested by the media. It went to court, but the Supreme Court ruled that executive privilege existed and kept the emails from being revealed. They were about opting into the ACA that included Medicaid expansion. Also, there were the emails over the botched executions that took place [at the state penitentiary] in McAlester.
I will not claim executive privilege. If someone wants documents from my office, unless it fits a statutory exemption, then those are public documents and I will release them unless there's a prohibition in the statute.
All of those exemptions are in the Open Records Act. Some are shelved in the education arena; there are [medical privacy] restrictions. There are juvenile records. But most exemptions are listed under the word may – as in may be restricted – and my instinct is to make them open.
I will establish an office of open government or transparency to make sure that we're in compliance with open records and open meetings, and to serve as a facilitator to media trying to obtain documents from state agencies. I've encouraged the legislature to remove its exemptions from open meetings and open records.
The Open Meetings Act and Open Records Act say why the laws exist. Government belongs to the people and people are governed best when they know what's going on in the government that they pay for. I did this as attorney general. The documents belong to the people. Open meetings facilitate the public's business. The public has the right to know what's going in their government.
OM: What are your specific policies to bring businesses to Oklahoma and to diversify its economy so that it's not dependent on the ebb and flow of oil and natural gas production?
DE: Oklahoma is already ranked in the top 10 nationally, probably in the top five, in terms of being business friendly. We have passed laws on tort reform and right to work that have been proclaimed by chambers of commerce across the country as friendly to business. What we lack right now is the investment in our own people because corporate CEOs are asking that question, "Why should we invest in Oklahoma if you're not investing in your residents?" We should make our schools so good that businesses want to come to Oklahoma. We have to improve our health indicators and reduce our prison populations. These are things that corporations look at when they decide to move. We invest in our people first, then we can attract businesses that we want to have.
I would also stop cutting appropriations to the Department of Commerce, which promotes tourism and business, and the Oklahoma Center for the Advancement of Science and Technology, which provides start-up capital. That's counter-productive. It doesn't make sense to cut funding to agencies that try to bring science and technology to Oklahoma.
I want to be a partner with the Tulsa and Oklahoma City chambers of commerce in bringing businesses to Oklahoma.
OM: What else would like Oklahoma voters to know about you?
DE: I spent 10 years as a district attorney and 16 years as state attorney general and both times those offices were in better shape when I left than when I came in.
That's what I want to see after being governor. I want to turn around when I'm done and see that education is in better shape, that citizens are healthier and that there are more businesses.
I want to leave the woodpile a little higher than it was when I found it. I want to leave the state in better shape than when I found it.
3
Outsider Stitt wants to bring
'a fresh set of eyes to our problems'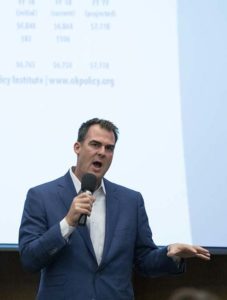 "As a businessman, I have a unique skill set that I bring to the table," says Kevin Stitt, the Republican nominee for governor of Oklahoma.
With an eye for profit and job creation, Kevin Stitt has driven his lending company into 41 states since 2000. Now the political outsider wants to drive Oklahoma in the same way.
"As a businessman, I have a unique skill set that I bring to the table," the founder of Gateway Mortgage says. "You have to get a team together … get the legislature on the same team. I believe in a smart government that delivers.
"I know how to hire people and read a balance sheet and institute performance metrics. If you don't have a fresh set of eyes on our problems, then you won't see what needs to change."
Stitt's playbook comes straight from supply-side economics, which counts on low taxes, reduced government and regulations, and pro-business policies to spur investment, expand the workforce and fill treasury coffers with increased revenue.
"We have to have accountability," says Stitt, 45. "I have to have the authority to hire and fire agency heads. You see that with the health department. It's an alignment issue and a structural problem.
"I've circled with House and Senate and federal legislators and we've worked on strategies together. You can't go off in 150 different directions. You have to have a common direction for the state."
Stitt's common direction would include policies similar to those of outgoing, two-term Gov. Mary Fallin, who has held elective office in Oklahoma since 1991. Stitt neither sidles up to nor distances himself from Fallin.
"I don't know what her policies have been," he says. "I know that she has improved our bridges. I don't want to compare myself to anyone. I want people to see my resume. I know how to hire people. I know how to lead. It's the difference between me and my opponent, not the current governor."
To move Oklahoma's economy away from the yin and yang of energy production, Stitt would set up offices overseas and in high-tax states to lure businesses.
"We're fortunate to have the oil and natural gas industry and the agricultural industry," he says. "I want to keep helping those guys innovate. But they are cyclical. We have to diversify.
"We should be No. 1 in distribution since we're in the middle of the country. There are West Coast companies that need a middle-of-the-country place. There are European businesses that need U.S. spots. That should be us."
Stitt would continue Fallin's rejection of Medicaid expansion under the Affordable Care Act, which he says hurts the economy. He proposes allowing insurance companies to sell policies across state lines to get more people covered by increasing competition.
"We need to have more able-bodied people off Medicaid and back into the work force through auditing," he says. "We need to get people working and on private insurance."
Stitt talks policy the way he runs his business – with lots of energy. However, he does take time to unwind and connect with his whimsical side (he's ridden a unicycle since he was 7).
"I'm a bit of a workaholic, so I love riding horses," says Stitt, who has a 115-acre ranch outside Tulsa. "It's relaxing and gets me away from the office. I roped a calf last night and doctored it. We love the western lifestyle."
4
ONLINE EXTRA ABOUT KEVIN STITT
Following is from a question-and-answer session with Kevin Stitt, the Republican nominee for Oklahoma governor.
Oklahoma Magazine: You are for revamping and improving infrastructure across the state to attract businesses. You are also for increasing teachers' salaries. How will these be funded?
Kevin Stitt: My heart breaks for the teachers. We have to pay them competitive wages. We're third in our region now and we need to be first.
No. 1, we need to continue to grow. We're projected to have $1.3 billion more in the treasury this year because of the economy. We have to protect industry. We have to compete for industry and not let them leave. We got to continue that momentum.
When I look at the over $20 billion in our state treasury, we already spend $1,500 more per person than in Texas. We need transparency and I want to turn that around and deliver more services more effectively and more efficiently.
I'm not for any new taxes. We will live within our means and deliver the best core services.
OM: What are practical solutions to address education funding to increase salaries for teachers' aides and paraprofessionals, reduce class sizes and buy textbooks for schools?
KS: I'm different. I'm not going to put a Band-Aid on this. We have to look at how to fund education. Right now, we have an equalization formula that doesn't incentivize a school district. We need to change that. We want local districts to keep all their local dollars to pay for their teachers. It's a local and county decision. You can't look to Oklahoma City to pay for everything.
We have to break down walls between common education, higher education and career education. We need to rethink all three of those and how they work together, and get the best results for our kids. If you focus on the outcomes for the kid, then you can break through the various silos that each education group is in. We need to think big picture.
I think about the kid in western Oklahoma who probably doesn't have one Advanced Placement class. Other states pipe AP classes via the internet to remote areas. We can do that out to western Oklahoma. I want to add technology so the kids in western Oklahoma can have access to the best classes and pipe into the best education possible. Technology is underutilized in rural communities.
I'm all about competition and incentives. The legislature sets minimum salaries for teachers across the state, but I don't want to stop there. We should incentivize local counties and boards to pay their teachers more.
We need to give more local control and keep the local dollars in the local districts.
OM: You are against Medicaid expansion. What are your practical solutions for expanding health-care coverage to people who are uninsured, who do not benefit much from the Affordable Care Act's rebates and/or who cannot afford the premiums through the ACA?
KS: We can't keep cutting the reimbursement rate and I'd like to increase it. Plus, Medicaid expansion isn't a long-term solution. I've seen Obamacare hurt the economy. You can't have more people in the system without paying for it. As soon as Obamacare came out, I was against it. I didn't want to create a welfare system. States that have had Medicaid expansion have seen a backup of getting federal funds to those states.
We need to promote competition among companies that creates the need to attract great workers and lower health insurance premiums.
We need to create networks of hospitals, governmental agencies and insurance companies to work together to create partnerships with other states. We need to get more insurance companies offering products in our state; one called Medica is coming soon and that should create competition to lower premiums.
OM: What else would you like Oklahoma voters to know about you?
KS: I love creating opportunities for my friends.
I love being outdoors. We have four horses and 25 head of cattle. My favorite horse is Blaze, a 14-year-old mare with a white blaze on her face.
Sarah, my wife of 20 years, is fantastic. I tell people that they'd actually like her to be governor over me. She's big on mental health and education; she's passionate about those issues.