You might know Bartlesville's Becky Hobbs as a country star, with such hits as "Jones on the Jukebox" and "Hottest 'Ex' in Texas" to her credit. You might also know her as the co-writer of the enduring ballad "Angels Among Us" or the Conway Twitty chart-topper "I Want to Know You Before We Make Love," to name only two of her many compositions recorded by country and pop artists.
And if you've only encountered her work recently, you might know her as the co-creator and writer (with stage veteran Nick Sweet) of the musical Nanyehi – The Story of Nancy Ward, which has played in several cities since its 2012 debut. (It's set to return to Tulsa's Hard Rock on May 4-5.)
What you might not know, however, is that the multitalented Hobbs was not only the organizer of Oklahoma's very first all-girl rock 'n' roll band, but, a few years later, an adviser to the notorious Hollywood music figure Kim Fowley, the man who masterminded what is probably the best-known female rock 'n' roll group of all time, the Runaways.
That happened in the mid-1970s, when Becky lived in Southern California. But a decade earlier, inspired by an article she'd read in a Beatles fanzine about an all-girl group called The Lady Bugs, the College High School sophomore put together her own female rock 'n' roll group.
"I'd been in a couple of boy bands in Bartlesville – Epicurean Time Machine and Undetermined Mud," she recalls with a laugh. "Aren't those just terrible? The guys were all 16 or 17 and they thought they were really good. They were into Cream and fuzz guitar, and they came up with all these names."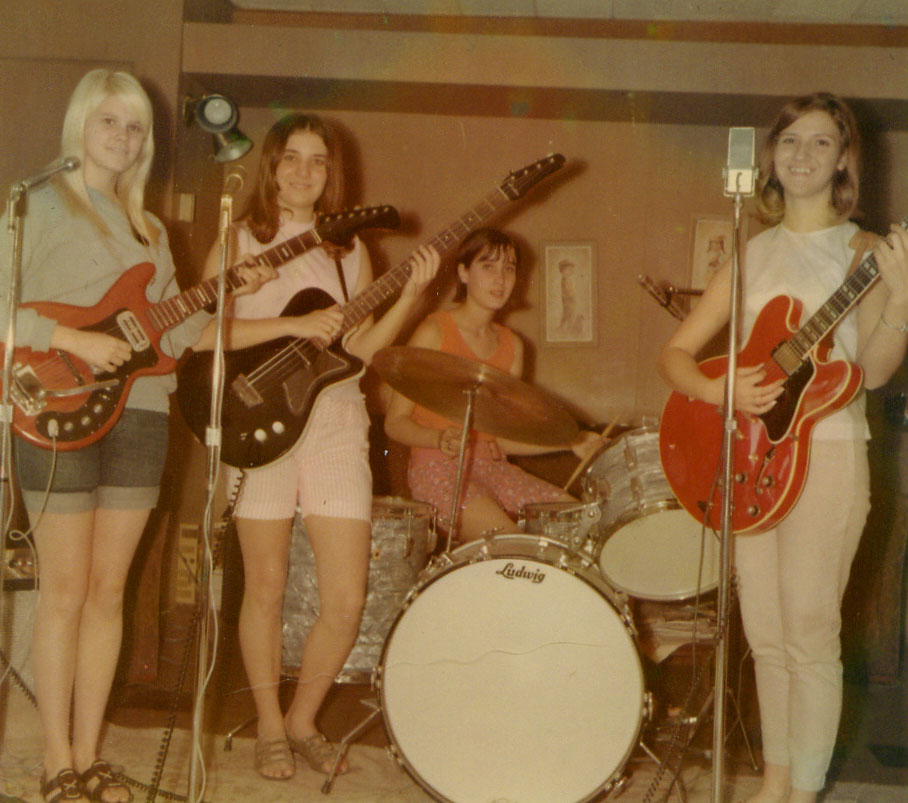 Becky's name for her own band was an apt one: The Four Faces of Eve. And after lots of practice, several personnel changes and a few gigs, the group attracted the attention of disc jockey Lee Bayley, who hosted KOTV's Dance Party, a show featuring local rockers.
"We started playing Dance Party, and that's when Charlie Noel of Charlie Brown's Guitars got the idea of forming his own all-girl band and being the manager," Becky says.
The opportunity came at a good time for Becky who, in her own words, was "squabbling" with the other three Faces of Eve.
"You know, females [in a band] could never get along," she says. "I don't know why. We were always after the same boy; there was jealousy; everybody wanted to be the lead singer. It was so stupid."
When Noel managed to bring Tulsa's pioneering rock radio station KAKC and Pepsi Cola on board as additional sponsors, his idea for a new all-girl group took on a big-time aura. Auditions for the band, held in spring of 1968, brought in some 400 female rockers. Becky won the position of rhythm guitarist. (She'd soon switch to keyboards.) A contest was held to name the group, with the winning entry being Sir Prize Package.
"That summer we had a lot of Sir Prize Package gigs," Becky says. "I think one of our first might've been the Miss Tulsa Pageant. And we opened for the Buckinghams. By 1969, we were being booked by Mid-American Artists, burning up I-44 from Tulsa to Springfield. We wound up buying an old International Harvester truck, and I painted the hood of it like a big face, with lips and eyes, real psychedelic-looking. The police were always stopping us, thinking we were runaways."
In mid-'69, the group did run away, figuratively if not literally, from Noel, by redubbing themselves Wax Madonna during a tour in upstate New York (site of that summer's Woodstock Festival). By the time Becky returned to Bartlesville for Christmas of 1970, she'd decided to leave Wax Madonna, which was by then a trio. Patti Quatro was calling her often from Detroit and offering her a spot in another all-female band, the Pleasure Seekers, which had recently been vacated by Patti's sister Suzi, who was just beginning what would be an impressive solo career. Or, she could return to Louisiana, where she'd performed before Christmas, and rejoin a Baton Rouge-based band called Swampfox.
"I just thought, 'You know what? I'm sick of playing with females. I want to play with the boys,'" she says, and headed south.
Flash forward to 1973. Becky and Swampfox's Lewis Anderson (later to become an award-winning songwriter) were living in Hollywood and trying to break into the West Coast music scene. A friend back home had given them a couple of names of industry people, and one was Fowley, who by that time had not only amassed several credits in various facets of the music business, but was also, even by the generous standards of the early '70s Hollywood scene, a true eccentric.
Becky found out the latter when she called him, and he showed up at her door and demanded in vulgar terms that she fix him something to eat "or I'm going to puke like a dog in the street."
"Oh, my gosh!" she says. "The hairs on the back of my little Okie neck stood up and I was sort of mad, but then I realized, 'Well, I guess that's just how he talks.'
"I could only cook tuna casserole and scrambled eggs, so I fixed him some scrambled eggs and we probably played him a few songs. We struck up a relationship. He would pay Lewis and me cash to drive him around Hollywood to his appointments. He was 6 foot 6 and thin, just skin and bone, very bizarre-looking. I think he'd had polio. There was something wrong with him that made him uncoordinated, and he didn't drive.
"Kim," she adds, "was the first person who ever gave me money for part of the publishing [of a song]. Two of the first songs I had out there in L.A. were one I wrote by myself called 'Paradise Is in Your Mind' and another one Lewis and I wrote called 'I'll Be Your Audience.' He said, 'I want to co-publish those with you, and I'll give you an advance.' He gave me a $250 advance for 'Paradise Is in Your Mind' and Lewis and me a $250 advance for 'I'll Be Your Audience.' To his credit, when Helen Reddy wanted to cut 'I'll Be Your Audience,' [record-company executive] Artie Mogull wanted all the publishing. But Kim Fowley said, 'Look, I'll give up half of my half so we can get the cut.'
"When it came to business, he was fair," she says. "He probably never made back that $250 from 'Paradise Is in Your Mind' because I don't think anybody ever cut it."
In addition to his reputation as a music-biz hustler, Fowley was also known as a notorious Lothario. But, Becky says, he never made a pass at her, probably because he was working with both her and Anderson, her boyfriend. Fowley did, however, come to her with his all-girl band idea.
"I knew I was too old for what he wanted," she says. "I was 23, and he wanted 16-year-olds. But he asked me and I said, 'Don't bother with it. Somebody's always getting pregnant and dropping out of the group. Everybody's jealous of everybody else. It's nothing but trouble.'"
Despite Becky's advice, Fowley went ahead with the Runaways. Becky went on to become a successful Nashville-based country singer and songwriter. And the two unlikely friends stayed in touch for the rest of Fowley's life, taken by bladder cancer in 2015.
(Becky Hobbs, with a band that includes Oklahoma musicians Rick Gomez and Don Morris, and her husband, Duane Sciacqua, plays Sept. 8 in Perkins for the Cimarron Breeze series of concerts. See cimarronbreeze.com for more information.)