[dropcap]When[/dropcap] one conjures mental images of Oklahoma, art museums aren't necessarily the first things that come to mind.
Outsiders typically ask about tornadoes and Native Americans. Upon reflection, Oklahomans might first think of oil and gas, sports or even earthquakes. Ask anyone, however, and very few will associate a mental image of art museums with the Sooner State.
This is poised to change. As the state's art museums continue to gain in size, popularity and national prestige, Oklahoma is shaping up to be recognized as home to some of the most iconic art collections in the Southwest.
"Oklahoma has a number of influential art museums across the state, and all contribute significantly to the quality of life in Oklahoma and, like every other aspect of society, play an important role in the overall health of a community," says Dr. Mark White, Wylodean and Bill Saxon Director of the Fred Jones Jr. Museum of Art on the University of Oklahoma Norman campus. "The arts have been shown to have a tremendous influence on the intellectual development of children, and creative expression is a natural impulse … "
Oklahoma City, Tulsa and the surrounding areas are rapidly transforming into arts-friendly communities with world-class cultural venues. Here are some of the state's great touchstones of the arts that continue to inspire and shape the area's cultural renaissance.
Crystal Bridges Museum of American Art, Bentonville, Arkansas
An hour's drive from the Oklahoma state line is the newest addition to the region's top-notch art museums. Nestled in 120 acres of Ozark forest and surrounded by miles of nature trails, Crystal Bridges was funded by the Walton family and opened in 2011. In its short history, 2.5 million visitors have already flocked to view its breathtaking collection, which includes work by such artists as Norman Rockwell and Andy Warhol, and runs the time span from colonial to contemporary. The museum grounds are also home to the Bachman-Wilson house, designed by Frank Lloyd Wright. This architectural treasure was painstakingly transported and re-assembled from its original home in New Jersey, and is now open to  the public at Crystal Bridges. Indeed, architecture itself is a big part of the environment at Crystal Bridges, according to Beth Bobbitt, public relations manager for the museum.
"The architecture of Crystal Bridges is as inspirational as the artwork housed inside," she says. "In a ravine surrounded by native Ozark forest, glass and light introduce dramatic views of the natural surroundings, the curved walls and vaulted beams mimic the Ozark landscape, while the use of concrete draws on the geology of the region. The architecture furthers the mission, connecting visitors with art and nature through the use of materials and design."
The museum facility itself offers not only gallery space, but a museum store, restaurant and coffee bar, and a studio for hands-on creativity programs. Plans are underway to add a visual art space and a performance venue as well as develop an artist-in-residence program. In addition, new construction will improve access to parts of the museum and open more space for special events and gathering areas.
"Our role as a museum is to explore the unfolding story of America by actively collecting, exhibiting, interpreting and preserving outstanding works that illuminate our heritage and artistic possibilities," Bobbitt says. "As part of our mission, it's important that we break down the barriers of art and provide access to great works. We welcome all with sponsored admission and enriching exhibitions. We also provide interpretive materials, including family and audio guides, and programs such as artist talks, workshops, and symposiums are designed to deepen our understanding of important historical topics as well as contemporary social, environmental and cultural issues."
As if we needed any other excuse to visit, admission to Crystal Bridges is always free.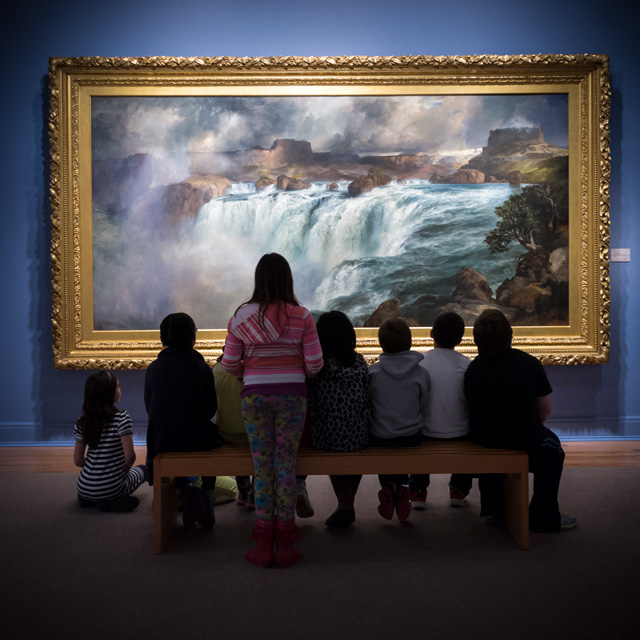 Gilcrease Museum, Tulsa
Visitors to the Thomas Gilcrease Institute of American History and Art are greeted by one of the state's most iconic sculptures. Allan Houser's "Sacred Rain Arrow," an image captured on millions of Oklahoma license plates, waits at the entrance to one of the most famous homes of American art in the United States. The museum opened in 1949 in Thomas Gilcrease's personal home, and its estate now encompasses some 460 acres, including 23 acres of renowned gardens in the Osage Hills just outside downtown Tulsa.
Even with past expansions to the facilities, only 6 percent of the museum's vast collections are on display at any given time.
"Gilcrease Museum has long been known to have one of the best collections in the country," says Melani Hamilton, communications manager for the museum. "It is the city of Tulsa's most valuable asset. Vision Tulsa, which provides for the Gilcrease expansion, finally affords the opportunity to enable Gilcrease Museum to reach its full potential as one of the top museums by giving its world-class collection a facility to match."
The expansion Hamilton refers to is the $65 million renovation approved as part of the Vision initiative in Tulsa, which will create a 100,000-square-foot expansion for new permanent collection spaces, a grand entry atrium and entertainment area, dining and parking expansions, and renovated spaces to attract more big-name traveling exhibitions to complement the impressive permanent collections. The museum is currently displaying photographs from Nickolas Muray of his lover and friend, Mexican artist Frida Kahlo, in West Mexico: Ritual and Identity, among other exhibits.
Although only a few minutes' drive from downtown Tulsa, Gilcrease recently set up a presence in the thriving Brady Arts District with the Henry Zarrow Center for Art and Education, an 18,000-square-foot gallery space for exhibitions and art education.
Philbrook Museum of Art, Tulsa
"Founders Waite and Genevieve Phillips were not art collectors," explains Paul Nelson, interim director and COO of the Philbrook Museum of Art. "They were philanthropists."
In 1938, the couple stated that in order for Tulsa to truly become a great city, it needed a great arts institution. They donated their 72-room villa and accompanying 23-acre estate to the city of Tulsa for this purpose, and today it stands as one of the premiere arts institutions in the state.
"Tulsa has a strong tradition of excellence in arts and culture," Nelson says. "For a city of our size and age, it's remarkable to consider the breadth and depth of art we offer. Philbrook holds a significant piece of the cultural tapestry and we work diligently to impact our community through a broad offering of programming and arts education for all citizens.
A privately-funded institution, the Philbrook relies exclusively on funds from visitors and donors, but this has not stopped its expansion in both physical space and prestige. The museum is now home to 16,000 artworks, and has seen unprecedented growth over the past decade. The new director, Scott Stulen, describes the museum's vision as "forward-looking" and plans to place a priority on making the Philbrook "relevant in the community." Part of this vision includes the recent opening of the Philbrook Downtown gallery in the Brady Arts District, a "welcome mat in the area where people are hanging out and a lot of younger people are living," Stulen says. In addition to the new downtown gallery, the museum has acquired 7,000 new objects in the past 10 years alone, and seen a 300 percent increase in visitor traffic in recent years. The collections at the Philbrook are some of the most diverse in the state, from Italian Renaissance art and sculpture from the ancient Etruscan, Roman, Greek and Egyptian cultures, to contemporary and Native American pieces. The eclectic collection is reflective of the vast array of artistic variety that can be found in the state.
"Oklahoma has many great arts and cultural organizations, which have grown into world-class institutions appealing to visitors and tourists from across the globe," Nelson says. "Many locals might be surprised to realize how many international visitors travel to museums in Oklahoma. We can continue to tell our stories while broadening our marketing message to new audiences, creating even more economic impact through tourism. Rising tides lift all ships."
Current Philbrook exhibits include A Place in the Sun: The Southwest Paintings of Walter Ufer and E. Martin Hennings and Cady Wells: Ruminations, a collection of mid-century watercolors on loan from the New Mexico Museum of Art, among others. Works from the Philbrook will soon be traveling to museums in London and Paris for European visitors to enjoy.
Fred Jones Jr. Museum of Art, Norman
Although officially christened with its current name in 1992, the Fred Jones Jr. Museum of Art at the University of Oklahoma main campus has served as one of the state's artistic wellsprings since 1936.
"The museum that became the Fred Jones Jr. Museum of Art was one of the first museums in state history and has always been part of the cultural fabric of the state," says White, director of the museum. "Oscar Jacobson, the founding director, had a tremendous amount of influence on the growth of the arts in the early 20th century, and many of the Native American artists that achieved regional and national reputations studied at OU and were collected by this museum."
The museum is most famous for its Native American and Western art collections, many of which were either collected by Jacobson or donated to the institution over time. The Adkins Collection, which joined the museum in 2007, contains 3,300 pieces by such luminaries as Charles M. Russell and Alfred Jacob Miller, while the 4,500-piece Bialac Collection is home to priceless objets d'art from North America's indigenous cultures. But it is not only American and Western art that defines the FJJMA. The museum also houses the Weitzenhoffer collection of French Impressionism, with an impressive array of paintings by Van Gogh, Renoir, Toulouse-Lautrec and more.
The museum continues to expand both its physical spaces and its collections. In addition to an exhibit from the OU School of Art faculty, this fall will see the opening of Picturing Indian Territory, a visual history of pre-statehood Oklahoma. White says the exhibit will offer a nuanced look at the area's colorful and turbulent past.
"With Picturing Indian Territory, we hope to enrich public understanding of the unique and often complicated history of Oklahoma," White says. "Visual imagery, whether paintings or illustrations, provided 19th-century audiences with information about topics such as Indian removal, the so-called Indian Wars of the Southern Plains, and the land runs that established Oklahoma Territory. We hope to work with teachers of Oklahoma history through our new outreach initiatives and provide materials that will enhance the classroom experience."
White maintains that with the contributions both his and other museums make to the state, it's time to start appreciating them as essential to the cultural well-being of our communities and people.
"While the number of museums in the state is a testament to the importance Oklahomans place on culture, I wish we could change a popular opinion that the culture is extraneous or an extravagant part of education," he says.
For visitors who would like to explore FJJMA in person, admission is always free, and programs are regularly held for visitors of all ages.
Oklahoma City Museum of Art
Built in 2002 in the heart of downtown Oklahoma City, OKCMOA is currently garnering national attention as the only North American exhibition site for Matisse in His Time, an exhibition on loan from the Centre Pompidou in Paris that features works by the famous modernist and his contemporaries.
"Matisse in His Time represents the beginning of an exciting collaboration between OKCMOA and the Centre Pompidou in Paris, Europe's leading museum of modern and contemporary art," says Becky Weintz, director of marketing and communications for OKCMOA. "We were thrilled to be chosen as the only North American venue for the exhibition and are looking forward to continuing to work closely with the Centre Pompidou. Hosting major exhibitions like Matisse in His Time reinforces Oklahoma City's reputation as a cultural destination in our region and helps us to continue to bring exiting exhibitions to the city."
The museum also is home to a world-famous glass collection by Dale Chihuly, including the three-story chandelier tower that greets visitors upon entering the facility. Other highlights from the permanent collection are currently on display in the Our City, Our Collection exhibit, a tribute to Oklahoma City and the museum's benefactors.
"In addition to Matisse in His Time, OKCMOA is also currently hosting an exhibition titled Our City, Our Collection: Building the Museum's Lasting Legacy, showcasing the museum's permanent collection and history," Weintz says. "Our City, Our Collection tells the story of the museum's history as a series of major gifts and bequests from a succession of visionary and philanthropic art patrons and includes artists such as Georgia O'Keeffe, Rembrandt van Rijn, Gustave Courbet, Marcel Duchamp, Pierre-Auguste Renoir, Alexander Calder, John Singleton Copley, Andrew Wyeth, Roy Lichtenstein and Dale Chihuly. This exhibition will be open through Aug. 28th."
Upcoming exhibits include Sacred Words: The Saint John's Bible and the Art of Illumination, showcasing folios of illuminated manuscripts from several religions.
The museum also houses the only art house theater venue in Oklahoma City, which gives many people in the Oklahoma City area the chance to see movies not available anywhere else in the area. The theater has has one screen and holds around 400 screenings per year, showing 100 to 150 films annually. Visitors can also enjoy cocktails on the roof each Thursday during the summer or attend "Dinner and a Movie" events that include a film screening and dinner in the Museum Cafe.
Oklahoma Contemporary, Oklahoma City
Many locals may even not be aware of this hidden gem, but many of Oklahoma's art students could speak to the personal impact this organization has made. Founded as the City Arts Center in 1989 and currently residing at the State Fairgrounds, some 45,000 art students have participated in programs at Oklahoma Contemporary since its inception.
Unlike traditional art museums, Oklahoma Contemporary doesn't house a permanent collection, focusing instead on exhibits and arts education.
"Oklahoma Contemporary remains dedicated to keeping art accessible with free exhibitions and public programs, outreach to underserved communities and youth scholarships," says Executive Director Donna Rinehart-Keever. "We've shown more than 300 artists in the last decade, from Oklahomans in our annual ArtNow exhibition to big names like those coming this fall. But as show-stopping as our exhibitions and events have become, education is the beating heart of our mission. Our students range from 5 year olds holding a paint brush correctly for the first time to lifelong learners pursuing a new creative passion. From hands-on gallery activities to cutting-edge techniques like 3-D printing and animation, we continue to be a home for artistic exploration and learning creatively. And that home is about to get a lot more square footage."
Keever is speaking of the planned 4.6-acre arts campus breaking ground this fall in OKC's flourishing Midtown neighborhood. The campus will be home to a brand-new 50,000-square-foot facility as well as another 10,000 square feet of renovated space and a three-block arts park and outdoor performance space.
"We are in a period of dramatic growth at Oklahoma Contemporary," says Artistic Director Jeremiah Matthew Davis. "This fall, we'll break ground on our new arts campus in downtown OKC, which will open in the fall of 2018. In preparation for our new home, we've begun to expand our programming to include more free events and increased scholarship opportunities for our classes and camps … In order to open our doors to as many visitors as possible, all of our exhibitions are free and open to the public. By relocating to the urban core, we'll be able to increase the number of visitors who can access the arts center exponentially. To further increase our connections to the community, we have started to collaborate with more local artists and institutions like deadCenter Film Festival, the OKC Ballet, Current Studio and Oklahoma City Public Schools, with many more joint efforts on the horizon. By working together, we collectively increase the cultural impact our institutions can have on our state, creating more exciting activities and experiences for Oklahomans to enjoy."
Davis and Keever agree that despite the state's financial woes, the Oklahoma arts community continues to thrive and grow exponentially.
"Art and culture are exploding in Oklahoma right now," Keever says. "Even in the midst of tough economic times, a committed community of artists, donors, educators, administrators, patrons and friends are pushing the boundaries, forming new partnerships and providing new opportunities for Oklahoma residents and tourists alike to experience art."
"And we're thrilled to be a part of that," Davis adds. "Oklahoma Contemporary's integration of exhibitions, performances and arts education provides a platform for creative engagement unlike any other institution in the state."