[dropcap]When[/dropcap] is a parking lot more than just a parking lot? When it becomes tailgate country. On most weekends in the fall, ordinary swatches of bare concrete transform into beer-guzzling, meat-grilling paradises – all for the love of football and community.
Americans initiated the tailgating tradition more than 150 years ago, the American Tailgaters Association reports, when crowds showed up to watch a battle between Union and Confederate soldiers. According to legend, spectators brought all sorts of food and drink to watch the battle from the back of their wagons.
Whether this incident counts as the beginning of tailgating, the tradition stretches to nearly the beginning of American football's history, and it is especially popular in areas with strong college football programs, according to VICE Sports. In Oklahoma, a football-loving state without a professional team of its own, tailgating is taken very seriously.
David Proctor, a University of Oklahoma alum for both his undergraduate and law degrees, is someone you could classify as a hardcore tailgater. David and his father have tailgated for more than a decade.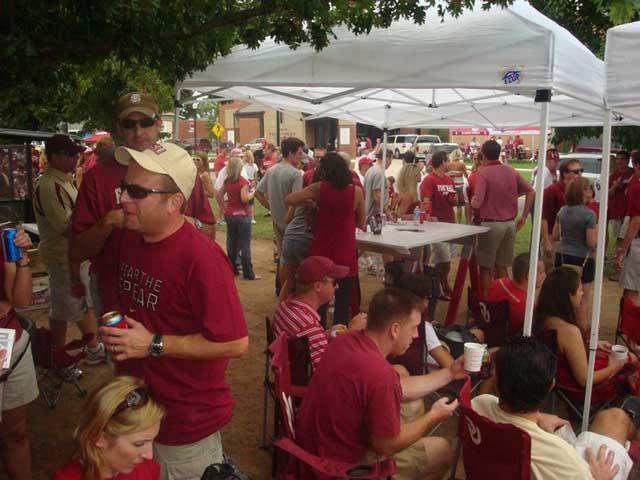 "I traveled to Bedlam [the OU-Oklahoma State rivalry game] when I was a kid, but our group with the Goolsby, Proctor, Heefner & Gibbs law firm started gathering in our current location while I was an undergrad about 15 years ago," Proctor says.
At the time, Proctor worked at the firm with his dad, whose partners were also avid OU fans. They began a setup of four tents with tables, chairs, gear and shopping goods all piled high on a trailer. If this sounds like a lot, it is; David, his dad, and the firm provide food, drink and atmosphere for up to several hundred fans. The group serves an entree loosely based on that week's opposing team: bison burgers when OU plays Colorado, for example.
David is also the official bartender of the GPHG tailgating camp, as it is known to the group.
"I tend the bar, which is a full-service bar, the entire time, starting about four hours before the game," Proctor says.
"People ask why I still tend the bar for every home game every year, and it's for a few reasons. First of all, I have the expertise after doing it for so long! But mostly, what could be better than getting to serve people and make them happy for six Saturdays every year?"
The GPHG tailgaters ("attorneys-at-law and tailgate experts – not necessarily in that order," as their swag proclaims) have gathered in the same spot for 12 years; even though Proctor has commuted from his Texas home for the past five seasons, he hasn't missed a home game. He says he sticks with the tradition because of the socializing.
"I love the tailgate season, as I call it anyway. It's a chance to see family and friends and it's an opportunity to get everyone excited for something we all love. I'm a born-and-raised Normanite, so it runs in my blood," Proctor says.
University of Tulsa tailgater Andrew Millspaugh agrees that tailgating is not just about sports.
"Tailgating makes the game more than just a game," Millspaugh says. "There's an added social aspect, and it's a great way to get our group of friends together. It is a bit of an orchestration – packing up a big cargo van to store everything is a bit more complicated now that we have kids – but the tailgating is as much of an experience as the game itself."
Millspaugh says tailgating is especially popular in Oklahoma because of long-standing traditions surrounding football.
"The culture of football is ingrained in our routine here, and college teams, for Oklahomans, get treated like professional teams," Millspaugh says. "It just feels natural."
Cheryl Hamilton and her husband Tom, Oklahoma State University tailgaters, take the tradition to a new level with their own spin: the State Rangers RV Cowboys social organization.
The State Rangers are a group of RV owners (and OSU fans, of course) who bring their houses with them, so to speak, to tailgate. The group began with about 35 members, but after a five-year campaign to improve their space, the lot now boasts over 90 spots.
"We like this gathering because when you get a bunch of RVs together, people are always so friendly. And then when you add that to tailgating, it's the same thing but on an even bigger scale. When someone walks by, people holler out and invite them to stop and have something to eat or drink," Hamilton says.
The RV participants pay to reserve their spots every year, and excluding a small fee for electricity and maintenance, the State Rangers donate the rest of the money to a football scholarship. Hamilton says she and her husband will probably keep tailgating as long as they have an RV.
"It's an opportunity to have a good time and be with friends!" Hamilton says. "You talk about football, of course, but mostly it's a reason for a party."