Dynamism. Walkability. Simplicity.
Those elements have drawn many young professionals, like Claire Spears and Brady Ballew, to the urban cores of Tulsa and Oklahoma City.
Spears and Ballew operate a coffee shop and yoga studio in downtown Tulsa, and live just around the corner in Jacobs Lofts on First Street, their third downtown residence since July 2016.
"We were the first tenants in there," Ballew says. "We've gone from 440 square feet to 1,200 square since we started living downtown. We wanted to be in a thriving area and to create that footprint of something new."
He adds that he recently sold his car because "we both live and work downtown. The only thing we're missing is a grocery store, but we just have our groceries delivered with Shipt."
Spears, a Tulsa native who graduated from Bishop Kelley High School, says she and Ballew have both lived in other cities where walking in a vibrant neighborhood – not driving from store to store or place to place – is the norm.
"Brady lived in the Capitol Hill area of Seattle, so he walked a lot," Spears says. "When I was in graduate school at Cambridge in England, I didn't have a car. I loved walking everywhere for everything I needed."
The increased number of apartments and condominiums in Oklahoma City and Tulsa correlates to the thriving businesses in each city's urban districts. More people living downtown means more restaurants and shops … and vice versa.
"We didn't decide to live downtown because we had friends there; we just wanted an urban environment," Spears says. "We wanted to experience new businesses opening. We didn't want a traditional house and yard.
"We also just wanted to live simply and in re-purposed buildings. The Coliseum has been around since the 1920s. The Vandever is where my dad used to buy his suits. And the Jacobs is an old hotel. That's all kind of neat."
Those three residences are among scores of options in downtown Tulsa and OKC. With amenities such as rooftop pools and bars, large windows offering views of the cityscapes, proximity to live entertainment and the ease of commuting to work, living downtown is a great option.
New and Upcoming Luxury Living
The Davenport Lofts, on North Main Street just south of the historic Cain's Ballroom in Tulsa, should begin construction of its high-rise condominiums in late summer, says developer Lori Schram, adding that the development will feature large two- and three-bedroom condos with a "very urban, contemporary style," including floor-to-ceiling windows, open floor plans, private outdoor terraces, Gaggenau appliances, SieMatic cabinets, Italian-tile baths and three levels of interior parking. More than 50 percent of the condos have already been sold, Schram says. davenportlofts.com
Jacobs Lofts on First Street, at Detroit Avenue in Tulsa, is in a walkable neighborhood. Just a couple blocks from the Performing Arts Center and dozens of restaurants, and minutes from the BOK Center and Guthrie Green, this luxury apartment building was built in 1918 as the Jacobs Hotel. It has been renovated into 28 apartments and lofts with a restaurant and store on the bottom floor. Its first tenants arrived in August. The luxury apartments feature marble vanities, stainless steel appliances, finished concrete and hardwood flooring, and floor-to-ceiling windows overlooking the Blue Dome District. jacobsloftsonfirststreet.com
The Townhouse, modern apartments in a 1930s building, is a 6-minute walk or 1-minute bike ride to Oklahoma City's Downtown Central Business District, Midtown or Arts District. The historic building was completely rehabilitated and no two units are alike. All feature stainless steel appliances, wood or concrete flooring, and plenty of windows and natural light; they share a roof-top patio. "This is a beautiful building, one of the few left of its kind downtown," developer David Wanzer told The Oklahoman. "The views are incredible from this hill. You have great proximity to walk to Midtown, to work in the urban core, and it's two blocks from the streetcar." substancia.com
The Dwellings at SoSA, near the Plaza District, Central Business District, Bricktown and Midtown, will be the only luxury town homes in downtown OKC for sale with no shared walls. Each town home will boast storefront windows, 9-foot ceilings, partially covered rooftop terraces, side courtyards, garages and covered stoops. The Dwellings at SoSA's first phase has already sold out, and sales for the second phase are underway. northlinedevelopment.com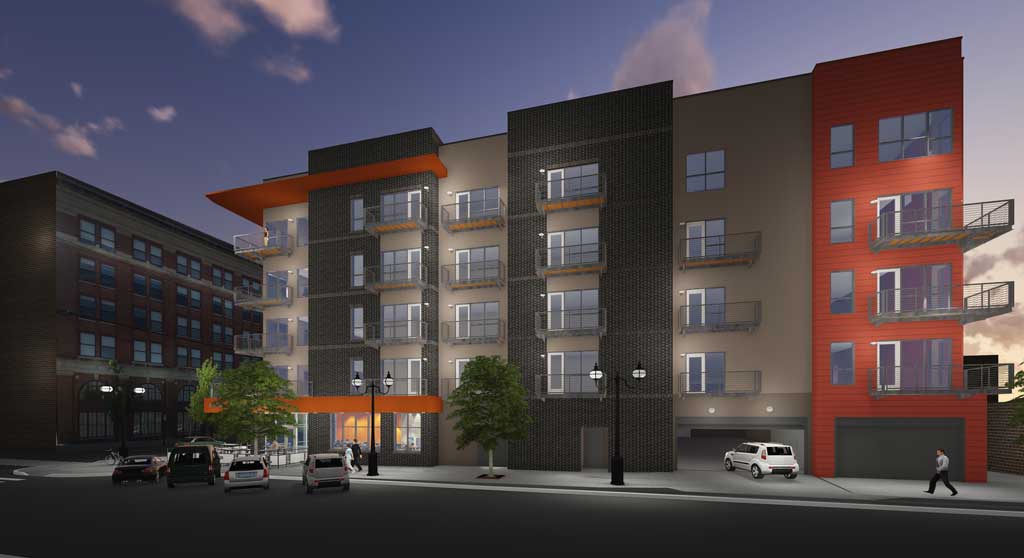 The Flats on Archer, at Boston Avenue and Archer Street in Tulsa, will be an exclusive apartment community introducing spacious open layouts, private balconies, smart technology capabilities and high-end features. Residents will enjoy a multi-level fitness facility, remote access garage parking, a pet washing station and a rooftop terrace. Positioned in the Arts District, this complex will be near restaurants, entertainment venues and community events. Units will be available Sept. 1, according to the website. www.theflatsonarcher.com
Left Frame Lofts, in the thriving, design-conscious Film Row in Oklahoma City, will have six high-end condominiums for sale by summer. The lofts will range from 1,400 square feet to 1,500 square feet, and feature an open-living concept with rooftop access for all tenants. Sales begin soon on the apartments, which will feature views of downtown, full automation with lighting, shades and audio, and a virtual doorman, developer Clint Newsom says. Left Frame is one block from the Paramount Theatre, a few blocks from the Myriad Botanical Gardens and close to plenty of pubs and eateries. leftframe.com
The Civic, in OKC's Arts District just across the street from the Civic Center Music Hall, is within easy walking distance to some of the city's hottest areas, including Midtown, Chesapeake Arena and Bricktown. About 74 percent of the 34 condominiums at The Civic have sold, says Jennifer Kragh with Dwell Urban Real Estate. "It's a beautiful example of an urban infill residential community with a prime location," she says. "It offers owners an exciting lifestyle." Condominiums feature stainless steel appliances, open floor plans, covered parking, balconies and modern landscaping. thecivic-okc.com
The Cosmopolitan Apartments, at Denver Avenue and Riverside Drive in Tulsa's historic Riverview neighborhood, are a project of Houston-based Bomasada Group. The complex, which opens in Spring 2019, will have 264 luxury apartments featuring one-, two- and three-bedroom units in a four-story structure wrapping a concrete garage. The development, along the Arkansas River, is minutes from downtown and soon-to-be-opened Gathering Place. Amenities include a social room with plush seating, televisions, a sound system, games and a catering kitchen. There will also be a fitness center with a yoga lawn, the Connect Bar Cyber Café, a bike zone, a pet salon, fire pits and a rooftop swimming pool. Bomasada developed The Enclave in Tulsa's Brookside and The Metropolitan in downtown OKC.
Cirrus, in Midtown OKC, will be comprised of four modern, luxury townhomes in the SoSA (South of St. Anthony's Hospital) neighborhood on the crest of a hill overlooking downtown. The location is close, via walking or biking, to some of OKC's best shopping, dining and entertainment options. Each home will have three bedrooms, about 2,400 square feet of living space, fully-integrated smart home capabilities, a room-sized private terrace, and unmatched skyline views through large panoramic windows. Sales begin soon. thisiscirrus.com