The musical legacy of Oklahoma is far-reaching. Often the focus might be on an acclaimed folk-singing Depression-era hero, a rock 'n' roll guitar picker from West Tulsa and a prodigiously talented piano player.
But there is something overlooked in a narrative only about Woody Guthrie, J.J. Cale and Leon Russell. There's something sitting in the background that keeps the songs moving forward in time, something as masterful as a lick or a lyric: a distinct drumming style that has gained international recognition.
That style, eventually known as the Tulsa Shuffle, has gone on to affect countless lives through songs now considered timeless.
How did it start? How has Oklahoma produced some of music's most respected drummers?
The origin story of the Tulsa Shuffle is one layered in years of dust and myth. Even the name is a mystery. Lore says the title was coined by Oklahoma author and historian John Wooley.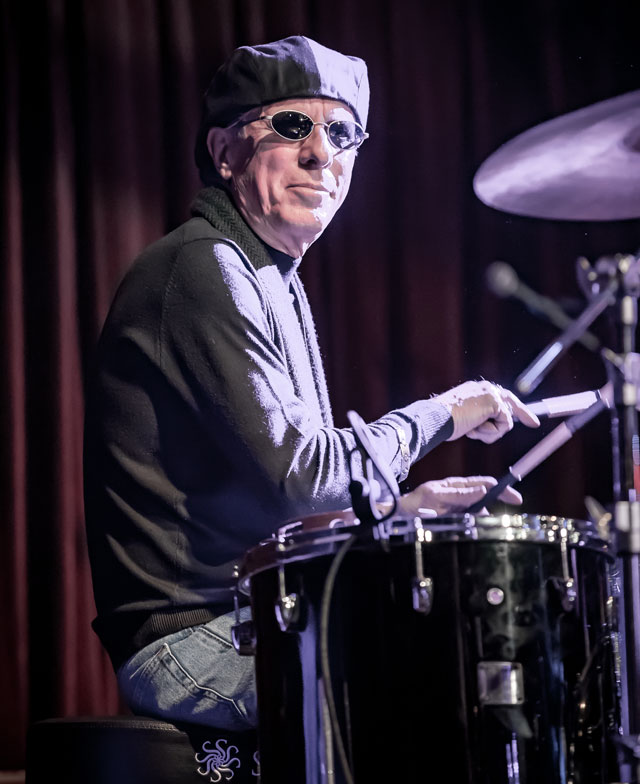 "As much as I'd like to take credit for the term, I can't. I've used it over the years, but I'm sure it was in the local lexicon well before I came on the scene," Wooley says. "I've often wondered about the profusion of Tulsa drummers. Leon did more than his share to get his Tulsa musician friends, including drummers, work in [Los Angeles], but that still doesn't explain why there are so many good drummers from that area."
It's been said that Tulsa drummers don't play the part; they play the song.
"You don't notice the drummer because it's part of the song," Tulsa-based drummer Paddy Ryan says. "The thing about the Shuffle is there isn't a definition; it's a vibe, not a straight beat, something you can't really pin down."
Ryan is a man for hire and became known and respected for playing with artists such as the Secret Sisters, John Moreland, Parker Millsap and John Fullbright. His work has led to sharing the stage with acts opening for legends Elton John and Willie Nelson.
According to Ryan, the Shuffle is a less-is-more mentality with simple "rules": play softer until it's time to kick it up; don't come in full force; don't showboat; hang in the back; keep it tasteful.
"Sometimes I don't even use any cymbals," he says. "People love it; I get gigs."
An essential element of the Tulsa music scene is trust. The drummer trusts the bass player. The guitar player trusts the rhythm section. They all trust the songwriter. Much of this can be traced to the early days of working with Oklahoma icons Russell and Cale, kids who became stars and took their hometown peers with them.
"Stay back, keep it easy, and you had better be on time," David Teegarden Sr. says to those attempting the job.
Teegarden took the lessons he learned in Tulsa as a session player for Shelter Records at Russell's Church Studio with him to Detroit in 1968. There, he found a thriving rock scene fueled by acts such as Iggy Pop, Ted Nugent and the MC5.
Coming from a town at a cultural crossroads that served a thriving music community, Teegarden developed a style that allowed him to float between gigs and genres, especially country, rhythm and blues, jazz and rock 'n' roll.
This unique style of playing attracted the attention of a young howler named Bob Seger. The admiration was mutual.
"He was the only white guy I ever saw that sounded like Wilson Pickett," says Teegarden, whose work with Seger garnered a Grammy for the classic "Against The Wind."
Teegarden once again calls Tulsa home, and he is hard at work building a recording studio "that will sound as good as the Church Studio could have sounded."
An artist's home often affects the art itself. It could be argued that if you stood by the Frisco tracks, the beat of the freight trains chugging along would hold an unmistakable similarity to "Lay Down Sally," one of Eric Clapton's biggest hits. The song was penned in Tulsa by singer Marcy Levy, with percussion provided by a baby-faced Jamie Oldaker. Over time, this young man played on 11 Clapton records and some of the singer's biggest hits.
Competition in the music industry is fierce, but Oldaker forged a lasting career and legacy.
"I'm uncompromising. I don't know what it is," he says. "Maybe it's where I'm from. Maybe it's the people. Maybe it's the strength that Oklahomans have."
Oklahoma has contributed much to the worlds of folk, rock and country music, but its influence on jazz cannot be ignored. This musical melting pot left its mark on a young Oklahoman, Jim Keltner, the son of a jazz drum-playing father and western swing-dancing mother. A sudden move at 13 found Keltner calling California home.
Moving across the country at that age has a way of romanticizing the past that we remember as adults, the places we once called home and the people we once knew. Keltner left, but he never forgot.
"The taste of the tap water – it's like nowhere else on Earth," he says. "I've been everywhere and the tap water in Tulsa is different. The way a burger tasted from the little stand at Pine and Cincinnati. The way the milkshakes tasted. Things about Tulsa I've never found anywhere else."
He also never forgot the sense of belonging he felt in Oklahoma. He looked at guys in the Muscle Shoals Rhythm Section or the Swampers, and how they represented a place, something more than an individual. Keltner aspired to this and, when Russell, Cale, Carl Radle and Chuck Blackwell proved themselves as forces on national and international stages, he felt an instant connection to these Oklahomans and their art. And by that point, Keltner had made a strong name for himself.
Time saw Keltner play on classics like John Lennon's Imagine album and Bob Dylan's single "Knockin' On Heaven's Door." Keltner's resume reads like a Best Of list because, through his session work, he became the most sought after drummer in the industry.
Keltner is content to remain in the background as the nameless constant. To illustrate this point, examine the supergroup The Traveling Wilburys, with recognizable names: Dylan, Roy Orbison, Tom Petty, Jeff Lynne and George Harrison. On drums is Buster Sidebury.
Who?
Buster Sidebury is Jim Keltner … a humble man who is arguably nothing short of a legend … a man who loves his work, has no intention of stopping soon and cherishes the memories of his time in Oklahoma.
Again and again, Tulsa inarguably produces remarkable drummers. Paddy Ryan. Chuck Blackwell. Jimmy Karstein. David Teegarden. Jamie Oldaker. Jim Keltner. Brandon Holder. The list goes on.
As for the Shuffle, it would  appear there is no perfect timing, no certain pattern, no definable characteristic. It is a vibe. It is a groove that draws people toward it. It is a beat that will keep going as long as there are people to dance.
Wooley sums up the root cause of the rhythm: "As I've noted before, much of the sound simply goes back to brotherhood and camaraderie."
The Tulsa Shuffle was born of a place where jazz and country two step side by side. Born of Oklahoma, it provided the beat to songs that changed the world and created men as recognizable as your uncle or grandfather … just some Tulsa boys, playing that Tulsa Shuffle.