At many corners, vehicles are commanded to ᎠᎴᏫᏍᏙᏗ before they proceed into traffic. Along downtown avenues, signs stating Ꮭ ᎠᏗ ᏱᎩ mean drivers have to find other places to park. Street names and directions also appear in the Cherokee syllabary completed by Sequoyah in 1821.
This is the heart of ᏣᎳᎩ.
Tahlequah – the capital of the Cherokee Nation and the United Keetoowah Band of Cherokee Indians, as well as the seat of Cherokee County – and its tribal heritage are interlocking and interchangeable.
"You can't step foot in Tahlequah without hearing our Cherokee language spoken," Cherokee Nation Principal Chief Chuck Hoskin Jr. says. "Our Southeast designs influence the architecture and businesses. The natural setting in Tahlequah looks similar to that of Cherokees' southeastern homelands. The fabric of our Cherokee culture is, and will always be, intertwined with … Tahlequah."
Hoskin points out the city's historic courthouse, the oldest building in Oklahoma (now a history museum). The Cherokee Nation government offices sit on Tahlequah's west side and just north of downtown is Northeastern State University, "founded to teach Cherokees as the first institution of higher learning for women west of the Mississippi River," he says.
This fall, the first tribal-affiliated medical school in North America welcomes its maiden class, as Oklahoma State University's College of Osteopathic Medicine at Cherokee Nation opens.
Historians cite Tahlequah's main drag, ᎽᏍkᎣᎨᎡ ᎦᎳᏅᏛ (Muskogee Avenue), as the first street surveyed (around 1842) in what would become Oklahoma. On it, the Kroner and Baer brings a big city vibe as a gastropub with live music on its patio (and enough space for proper social distancing) and plenty of craft brews on tap at the bar.
Owner Chris Whytal, who's lived in Tahlequah for eight years, says the city "needed a pub with more variety. We do yard games. We have a humidor, so people can pick out a cigar and smoke with a cold beer outside. It's a good place to hang with friends, watch a game or listen to music."
Whytal and other business owners appeal to the diverse population in Tahlequah, from undergraduates and medical professionals to longtime residents and government workers. Most of them, directly or indirectly, are tied to the Cherokee Nation, whose "'multiplier' activities in Cherokee County exert a total economic impact of $300 million, 6,380 jobs and $228.5 million in labor income," Hoskin says. "The Cherokee Nation has a tremendous economic impact in Tahlequah."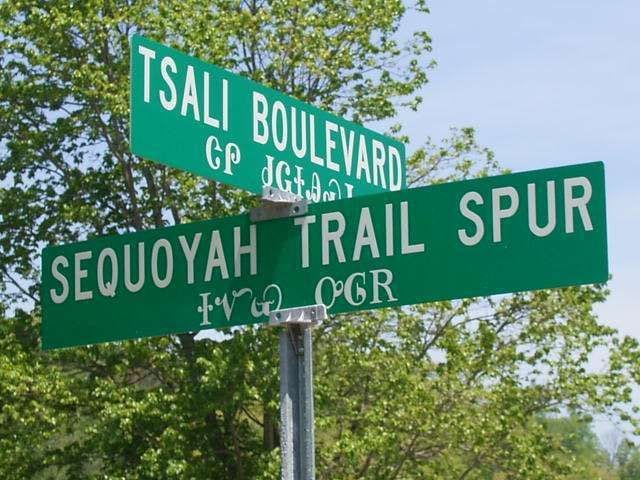 Population
18,709
Cradle of Education
The Cherokee National Female Seminary, which ultimately evolved into Northeastern State University, began long before statehood … in 1846. The original building, near Park Hill south of Tahlequah, burned in 1887, but the school, Oklahoma's oldest institution of higher learning, was rebuilt two years later on land that became a wooded, hilly, 200-acre campus. Seminary Hall is NSU's centerpiece.
Comedic Fame
For several months in 1992, Tahlequah was the fictional "home office" of David Letterman's nightly Top Ten List on his NBC Late Night show (before he switched to CBS). A mural downtown on the back side of the NSU Playhouse commemorated the comedic honor.